The Miracle on South Street
In October 2010, HCI's president, Maria Coler, and senior project manager, Brian Babcock, attended the ribbon cutting ceremony for St. Justine Preschool II, located in Newark, New Jersey. HCI was recognized by Cory Booker, Mayor of the City of Newark, and New Jersey Department of Environmental Protection case manager, Gerald Hahn, for successfully completing fast-track remediation activities at the former industrial property. The Star Ledger and other news outlets attended the event. An article appearing in The Star Ledger reporting on the event can be accessed via the following link:
www.nj.com/news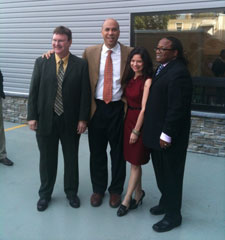 Gerald Hahn, Cory Booker, Maria Coler and Patrick Birotte at the St. Justine Preschool II Ribbon Cutting Ceremony.
HCI Assists Hand on the World Global
In October 2010, HCI donated funds to Hands on the World Global, Inc. (H.O.W Global), a non-profit organization dedicated to providing safe drinking water to schools in the developing world with large orphan populations. The funds were used to purchase Lifestraws®, a personal, hand-held filtration device. The Lifestraws were distributed at an orphanage located in the Kwazulu Natal region of South Africa. In addition, HCI's president, Maria Coler, joined the board of H.O.W. Global and traveled with its founder, Rachel Paulson, to South Africa. Ms. Coler will serve as a technical advisor and work to raise funds for the organization.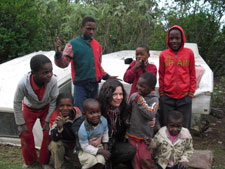 HCI President, Maria Coler, at an HIV Clinic in the Kwazulu Natal Region, South Africa.